At a Glance
Expert's Rating
Pros
Amazing value for professionals
Fastest graphics card for gaming, overclocked
24GB of GDDR6X memory
HDMI 2.1, AV1 decode, Shadowplay for 8K gaming
MSI Afterburner software is great
Uses standard 8-pin power connectors
Support bracket included in box
Customizable RGB lighting
Cons
Poor value for pure gamers
8K gaming is very hit and miss
Overclock draws significantly more power for no real performance
Nvidia Founders Edition is cooler, quieter, cheaper
Only 1 HDMI 2.1 port
Plastic shroud, few extra features
Our Verdict
The MSI GeForce RTX 3090 Gaming X Trio puts its own touches and an overclock on Nvidia's fearsome "BFGPU," with mixed results. It's a great card, but Nvidia's Founders Edition is cooler, quieter, and cheaper. Make sure you can use the RTX 3090's full potential before buying one.
Best Prices Today
$1589
No graphics card spits out gaming frame rates as fast as Nvidia's GeForce RTX 3090, and its massive 24GB of GDDR6X memory makes it an insanely good value for creators—yes, even at its staggering $1,500 baseline price. We already covered all that in our exhaustive Nvidia GeForce RTX 3090 Founders Edition review. But pushing this much performance takes a lot of power, and a lot of power needs heavy-duty cooling. Can beefy custom coolers tame the RTX 3090 more effectively than Nvidia's own card? That's what we're examining with this review of the $1,589 MSI RTX 3090 Gaming X Trio.
We've already rendered verdict on this battle in another form. Stepping down quite a bit in price, the $760 GeForce RTX 3080 version of the Gaming X Trio and Nvidia's rival 3080 Founders Edition both earned top marks, and our Editors' Choice award. We gave MSI's model the nod for acoustics and thermals, though, as its beefy triple-slot cooler proved more effective than Nvidia's dual-slot card.
Nvidia beefed up its Founders Edition for the RTX 3090 though, expanding it to fill three slots with exceptional results. MSI stuck with the same basic design for both the RTX 3080 and the RTX 3090. Does the Gaming X Trio remain potent enough to justify its $89 price premium over the Founders Edition at this level of performance? Let's dig in.
Editor's note: We're mostly going to focus on cooling and gaming performance in this review to compare designs. For a deeper analysis of the RTX 3090's various use cases, including content creation and 8K gaming, be sure to check out our exhaustive GeForce RTX 3090 Founders Edition review, or our shorter 5 things to know about the RTX 3090 for a briefer overview. If you're only interested in gaming results, the GeForce RTX 3080 provides much better value.
MSI GeForce RTX 3090 Gaming X Trio specs, features, and design
The basic tech specs for the MSI Gaming X Trio largely mirrors those of Nvidia's Founders Edition, because they're based on the same RTX 3090 chip using the new "Ampere" GPU architecture. Check out our GeForce RTX 3080 Founders Edition review for a deeper look at what's new in Ampere.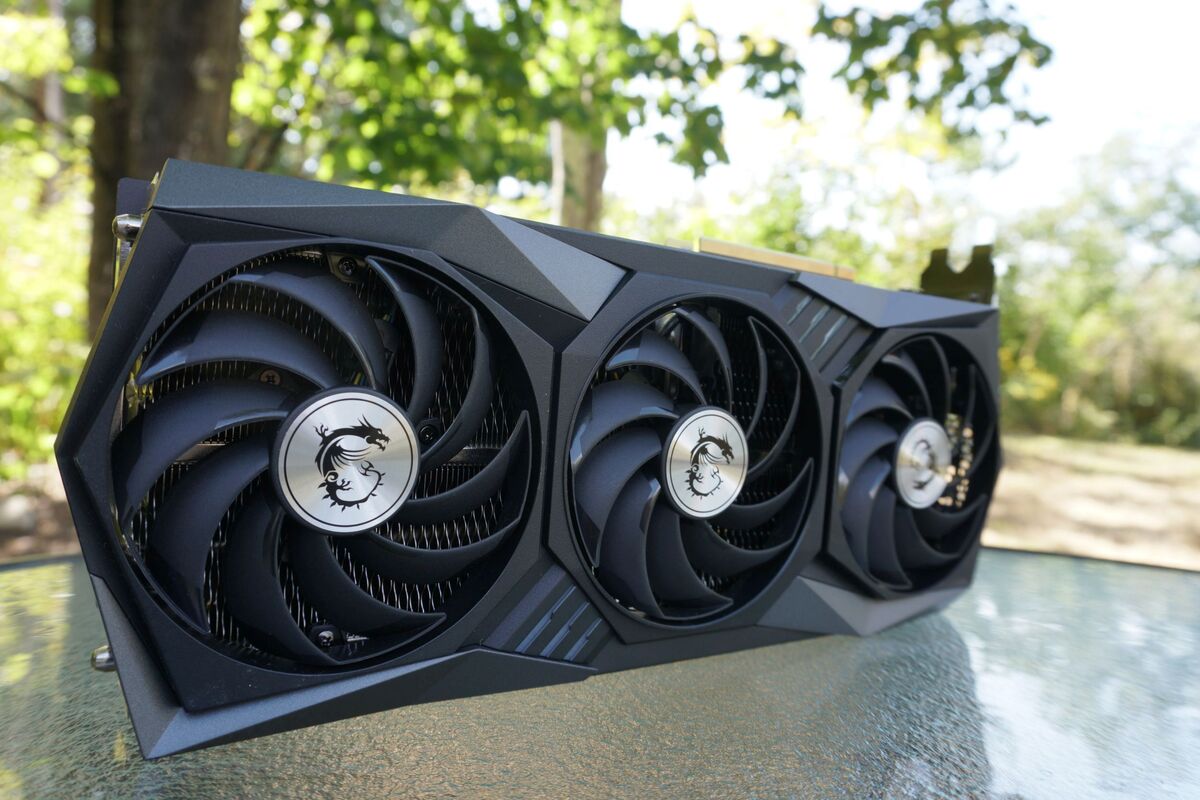 Here's a high-level look at the MSI GeForce RTX 3090 Gaming X Trio's specs:
CUDA cores: 10,496
Boost clock: 1,785MHz
Memory: 24GB GDDR6X
Memory bus: 384-bit
Memory bandwidth: 936 GB/s
RT cores: 82 (2nd-gen)
Tensor cores: 328 (3rd-gen)
NVLink SLI: Yes
PCIe: Gen 4
HDMI: 2.1
HDCP: 2.3
Display connectors: 1x HDMI 2.1, 3x DisplayPort 1.4
Power connectors: 3x 8-pin (with supplied 12-pin adapter)
There are only two key differences on the spec sheet (well, aside from the price) compared to the Founders Edition. First up: The GPU clock speed. While Nvidia's card comes clocked at the 1,700MHz reference spec for the RTX 3090, MSI bumps it up to 1,785MHz on the Gaming X Trio.
That doesn't tell the whole story though. The way Nvidia's boost clock algorithms work, they'll increase speed as much as thermal headroom and fan profiles allow. In practice, during a 5-lap run in F1 2020, we saw the Nvidia Founders Edition deliver consistent clock speeds of 1,785MHz to 1,815MHz. The Gaming X Trio, on the other hand, fluctuated clock speeds with much more variance. We saw speeds between 1,740MHz and 1,935MHz in the same GPU-focused benchmark, most often falling in the mid-1,800s. The wild variance likely explains why we see varied results versus the Founders Edition in our gaming benchmarks later.
MSI also uses a different power delivery system. While Nvidia's radical cooler uses a just-as-radical proprietary 12-pin connection that requires the use of an (ugly) adapter with a pair of 8-pin power connectors, the Gaming X Trio sticks to a trio of standard 8-pin power connectors. That theoretically gives the card more overclocking headroom, and lets it reduce power demands on your motherboard's PCIe connection. Nvidia recommends using a 750W power supply with its GeForce RTX 3090, but at the time of publication, MSI didn't provide PSU guidance for its card.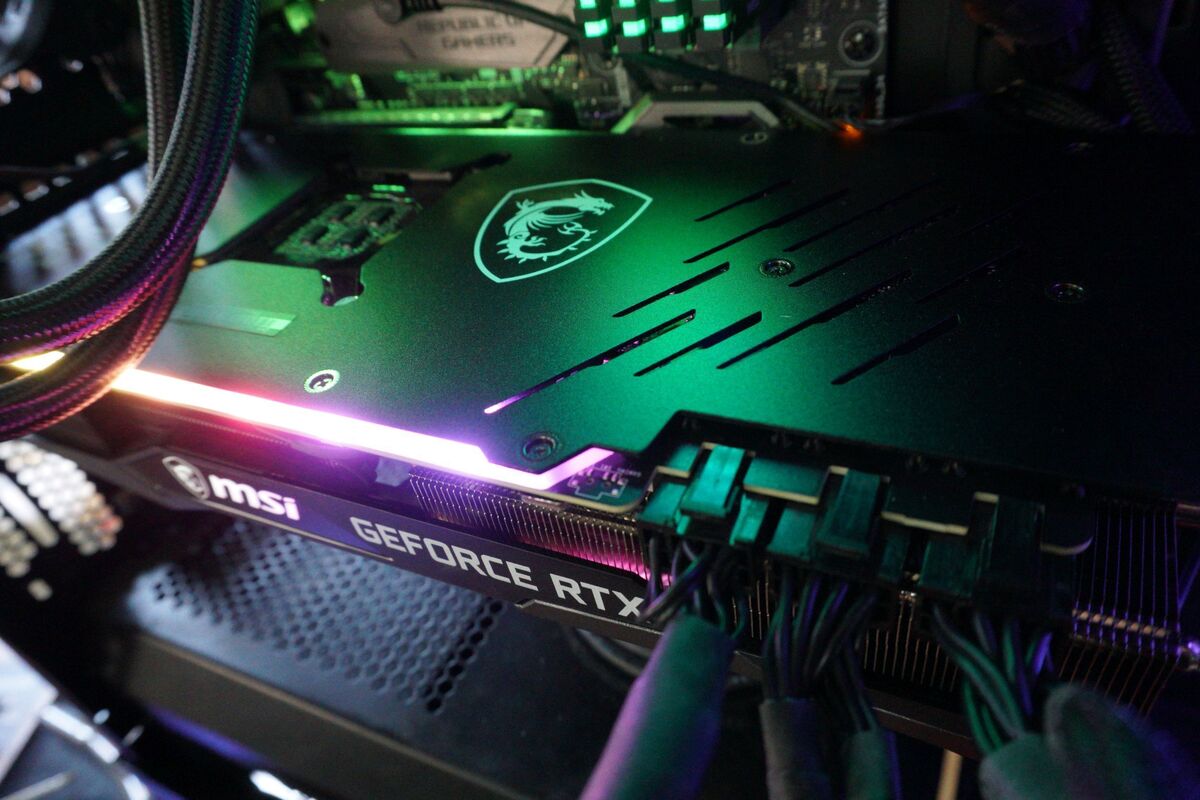 Finally, it's worth noting the 24GB of GDDR6X memory. That massive VRAM buffer lets creators do things that simply aren't possible with lower-cost GeForce cards, including the almost-as-powerful GeForce RTX 3080. If you need it, you know it, and its inclusion actually makes the RTX 3090 a killer value for prosumers, as the RTX Titan it's replacing cost $1,000 more for a slower GPU and the same 24GB of VRAM. NVLink is another key spec for pros, as it's not offered on any other GeForce RTX 30-series option.
The real difference lies in the cooler, though. Nvidia expanded the RTX 3080's dual-slot Founders Edition cooler to fill three slots with the RTX 3090, but MSI slapped the same massive triple-slot "Tri Frozr 2" cooler on both versions of the Gaming X Trio. It kicks ass though, running cool and quiet.
MSI threw a ton of custom engineering into the Gaming X Trio's design, and you can read all about it in our RTX 3080 Gaming X Trio review. The gargantuan cooler drops a trio (hence the name) of MSI's Torx 4.0 axial fans atop a fat heatsink bristling with metal fins and five full-length heatpipes. This is a big card, so to help it stand robust, MSI reinforced its design with additional metal straps, a graphene-infused backplate that's both stronger and dissipates more heat than plastic alone, and an optional support bracket bundled in the box. MSI also packed extra fuses onto the board for power protection and enhanced the PCB with copper to help with heat dissipation and reliability.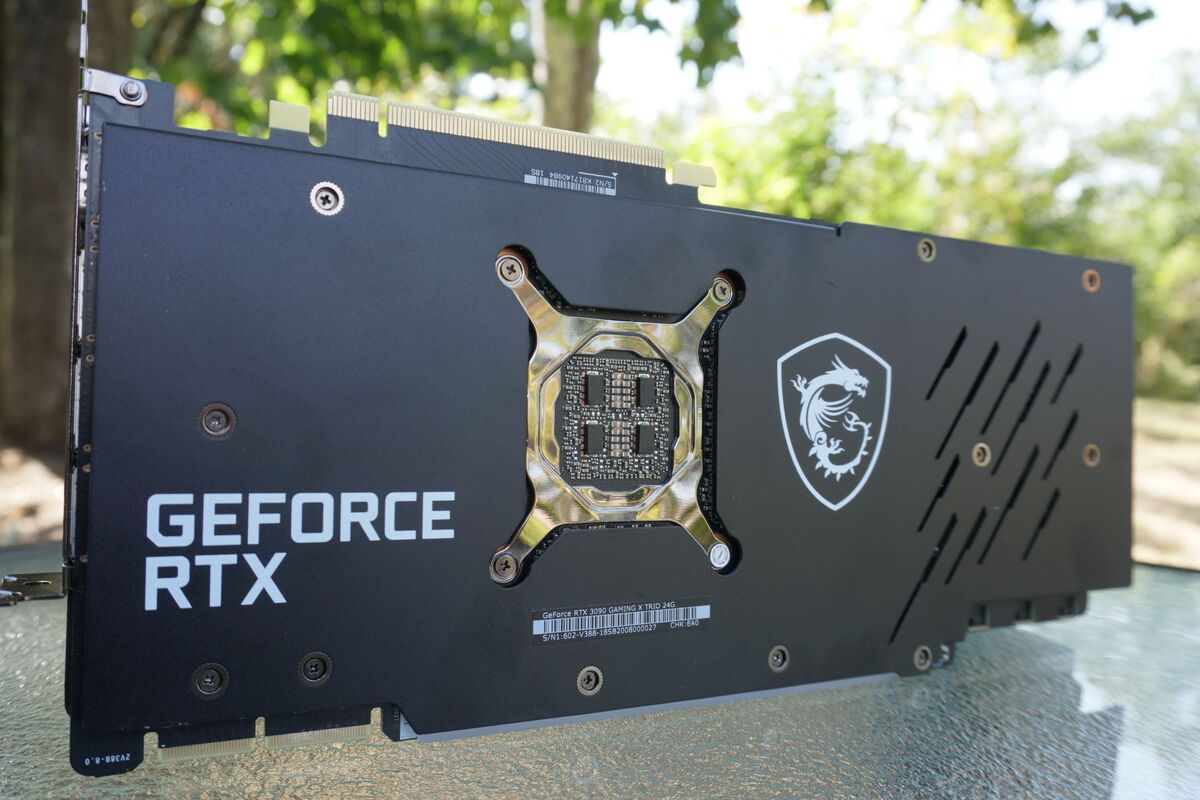 This is a significant custom cooler. Again, go read our review of the RTX 3080 Gaming X Trio for a much deeper dive into the tech under the shroud. We didn't get into it much with the RTX 3080 version, but since we're talking about a nearly $1,600 graphics card now, I wish MSI opted for a metal shroud rather than the plastic this card uses, just to make it feel a bit more premium. That would have added even more weight, though.
Speaking of the shroud, you know this card comes with RGB LEDs. The Gaming X Trio includes a thin RGB light strip on the edge of the card, accent lights around the fans in the shroud, and the MSI logo on the side of the card also illuminates. You can tweak them using MSI's "Mystic Light" RGB controls via the company's Dragon Center control app, and tweak your card's performance using MSI's fantastic Afterburner overclocking and GPU monitoring app, which remains a go-to for enthusiasts.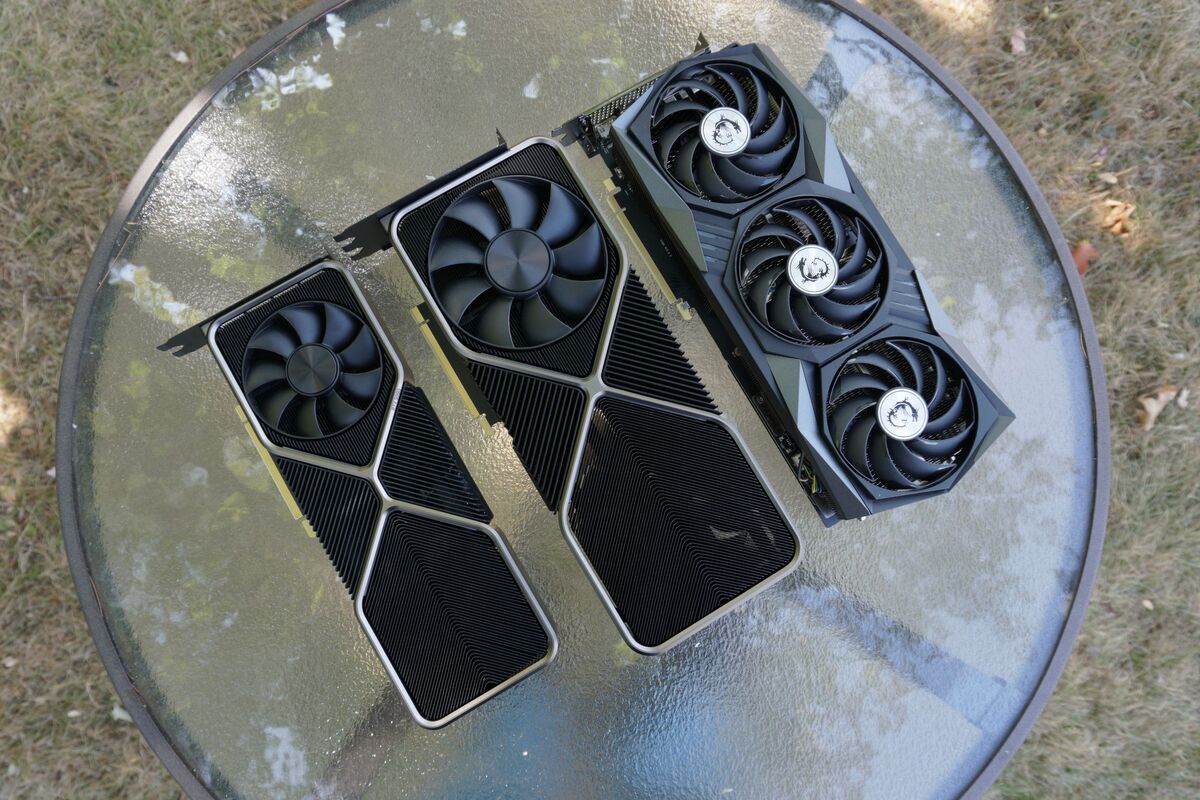 Between the shining lights, fat heatsink, and trio of power pins, the MSI Gaming X Trio gives off a very aggressive "gamer" vibe. That's typical for consumer graphics cards, but if you're a creator who wants the RTX 3090 for its 24GB of VRAM and GPU acceleration chops, it might not be a style you appreciate. The sleek, all-metal Nvidia Founder Edition looks much more sophisticated in your case if that's the sort of thing that matters to you.
Neither design is conducive to fitting more than two cards in a standard PC case thanks to their 3-slot size and fans that exhaust heat into the case. If you're a pro who wants to shove several GeForce RTX 3090s into a single workstation, we've seen a Gigabyte RTX 3090 that sticks to a 2-slot design with a blower-style cooler to fully exhaust GPU heat from your system, but it's unknown whether that style of cooling offers the full performance of the power-hungry 3090 chip.
None of this matters for gamers, who should stick to one graphics card because SLI is dead.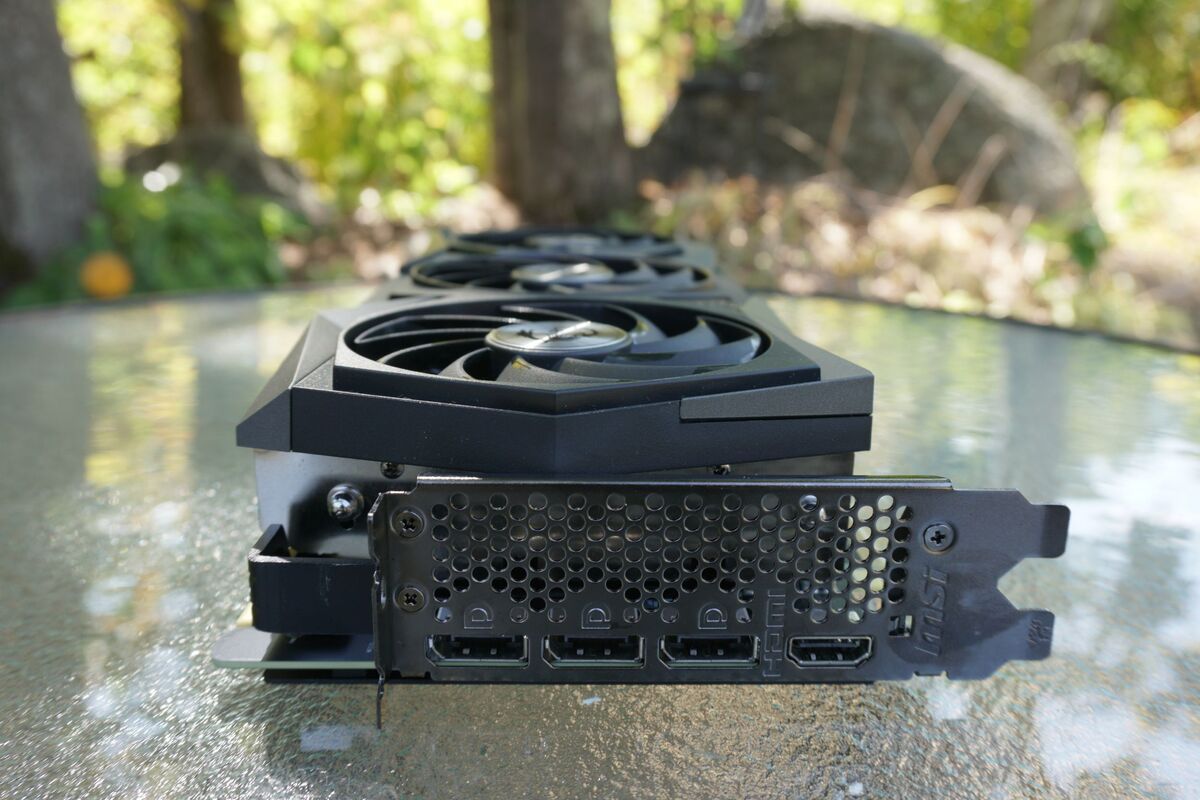 MSI stuck to the stock output configuration for the RTX 3090, with a single HDMI 2.1 port capable of powering an 8K display paired with three DisplayPort 1.4a connections. If you're a gaming enthusiast who wants a pair of HDMI 2.1 ports for powering both an 8K display and a VR headset, the rival Asus TUF RTX 3090 offers that capability. To bolster that newfound 8K support, Nvidia infused the RTX 30-series with AV1 decoding to better handle 8K streams, and the ability to natively capture 8K/30 video with GeForce Experience's Shadowplay feature.
Enough talk. To the test bench!
Next page: Our test system, benchmarks begin
Our test system
Our dedicated graphics card test system is a couple years old, but packed with some of the fastest complementary components available to put any potential performance bottlenecks squarely on the GPU. Most of the hardware was provided by the manufacturers, but we purchased the cooler and storage ourselves.
Intel Core i7-8700K processor ($300 on Amazon) overclocked to 5GHz all cores
EVGA CLC 240 closed-loop liquid cooler ($105 on Amazon)
Asus Maximus X Hero motherboard
64GB HyperX Predator RGB DDR4/2933 ($355 on Amazon)
EVGA 1200W SuperNova P2 power supply ($352 on Amazon)
Corsair Crystal 570X RGB case, with front and top panels removed and an extra rear fan installed for improved airflow
2x 500GB Samsung 860 EVO SSDs ($70 each on Amazon)
We're comparing the $1,589 MSI RTX 3090 Gaming X Trio against Nvidia's $1,500 GeForce RTX 3090 Founders Edition, naturally, as well as the $700 GeForce RTX 3080 Founders Edition. (The RTX 3080 MSI Gaming Trio delivered virtually identical performance.) We've also included results for a bunch of prior-gen Founders Edition cards: Nvidia's $800 GeForce RTX 2080, $1,200 RTX 2080 Ti, and the older $700 GTX 1080 FE. (MSRP prices for the 1080 and 2080 started at $100 less, but Nvidia charged a premium for the FE models.) We're also including the EVGA GTX 1080 Ti SC2 in our roundup, as our GTX 1080 Ti FE gave up the ghost years ago. AMD Radeon graphics cards can't compete with Nvidia's enthusiast-class GPUs in gaming performance, so they're not included here.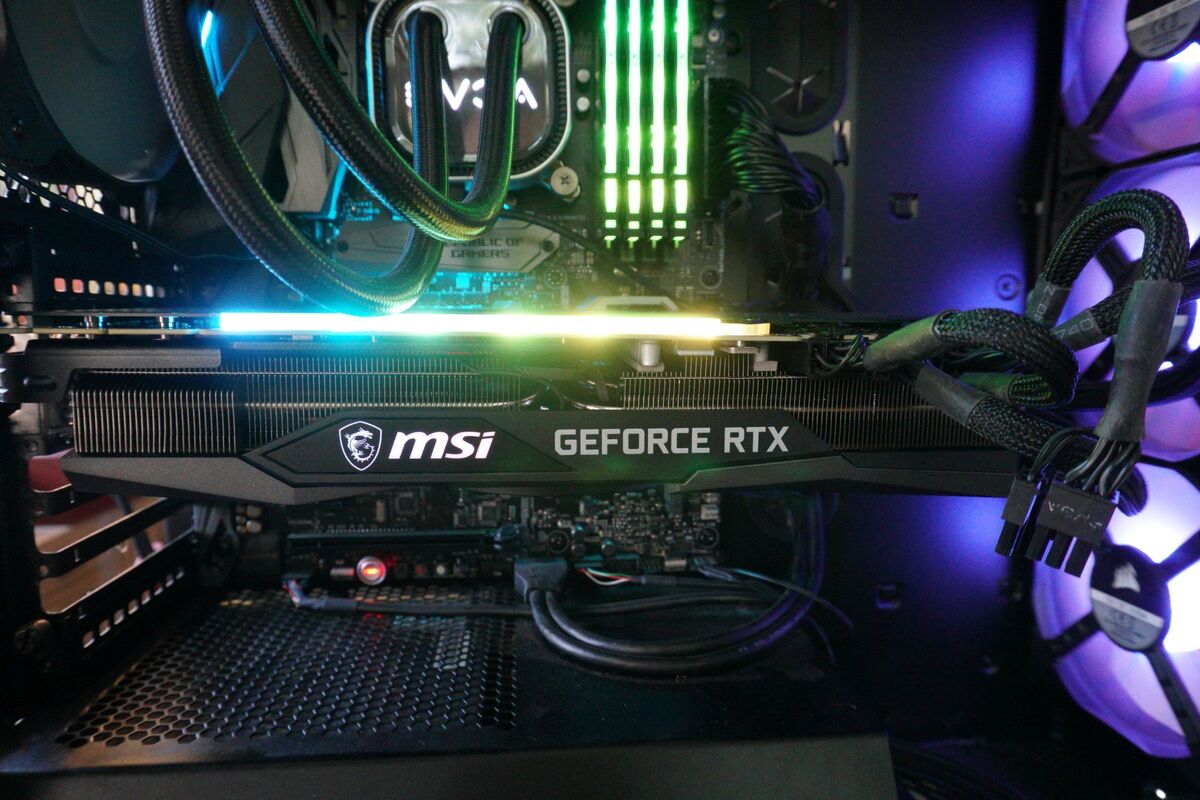 We test a variety of games spanning various engines, genres, and graphics APIs (DirectX 11, DX12, and Vulkan). Each game is tested using its in-game benchmark at the Ultra graphics presets unless otherwise noted, with VSync, frame rate caps, real-time ray tracing or DLSS effects, and FreeSync/G-Sync disabled, along with any other vendor-specific technologies like FidelityFX. We've also enabled temporal anti-aliasing (TAA) to push these cards to their limits. We run each benchmark at least three times and list the average result for each test. We tested the older cards using Nvidia's publicly available 452.06 Game Ready driver, the RTX 3080 cards using a 452.16 driver provided early to reviewers, and the RTX 3090 cards using the publicly available 456.38 driver.
Overall, the GeForce RTX 3090 offers about 10 to 15 percent more performance than the RTX 3080 at 4K resolution, and less of an improvement at 1440p. We'll present these 4K and 1440p gaming benchmarks but withhold additional commentary for our final analysis. Our RTX 3080 review already proved this even more potent card isn't a good 1080p option, as cheaper cards are just as fast at that resolution.
Again, traditional gaming is only part of the reason why you'd want an RTX 3090: Check out our full Nvidia RTX 3090 Founders Edition review for a deeper dive into the GPU's content creation and 8K gaming chops.
MSI GeForce RTX 3090 Gaming X Trio gaming benchmarks
Horizon Zero Dawn
Yep, Sony exclusives are hitting the PC now. Horizon Zero Dawn hit Steam with some performance issues, but the most egregious ones have been mostly cleared up thanks to hard work from the developers, and the game topped the sales charts for weeks after its release. It also seems to respond somewhat to PCIe 4.0 scaling, which will make this an interesting inclusion when we shift to a PCIe 4.0-based system in the future.
Horizon Zero Dawn runs on Guerrilla Games' Decima engine, the same engine that powers Death Stranding. Ambient Occlusion can still offer iffy results if set to Ultra, so we test with that setting at Medium. Every other visual option is maxed out.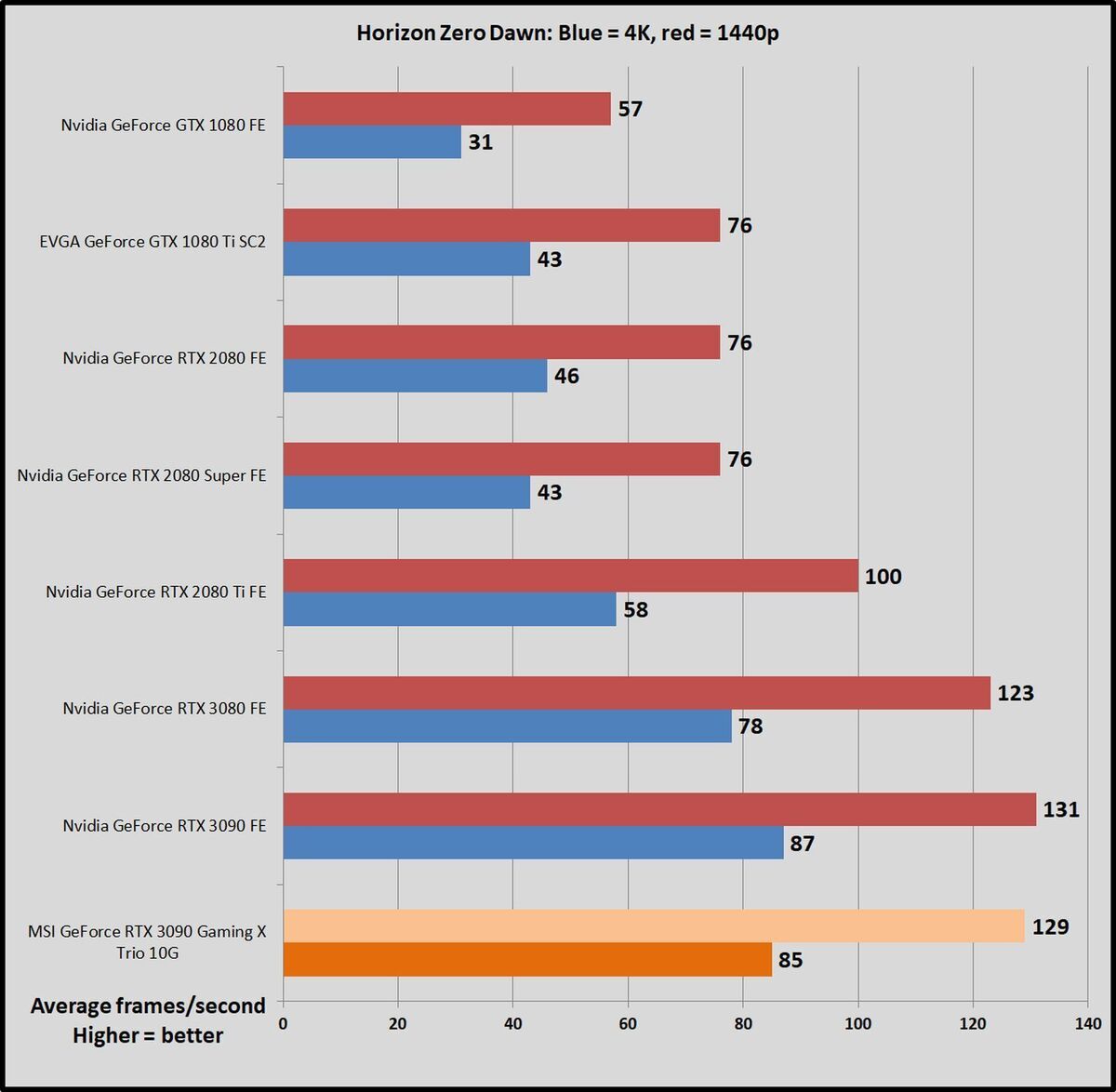 Gears Tactics
Gears Tactics puts it own brutal, fast-paced spin on the XCOM-like genre. This Unreal Engine 4-powered game was built from the ground up for DirectX 12, and we love being able to work a tactics-style game into our benchmarking suite. Better yet, the game comes with a plethora of graphics options for PC snobs. More games should devote such loving care to explaining what flipping all these visual knobs mean. You can't use the presets to benchmark Gears Tactics, as it intelligently scales to work best on your installed hardware, meaning that "Ultra" on one graphics card can load different settings than "Ultra" on a weaker card. We manually set all options to their highest possible settings, including the GPU-melting Glossy and Planar Reflections options.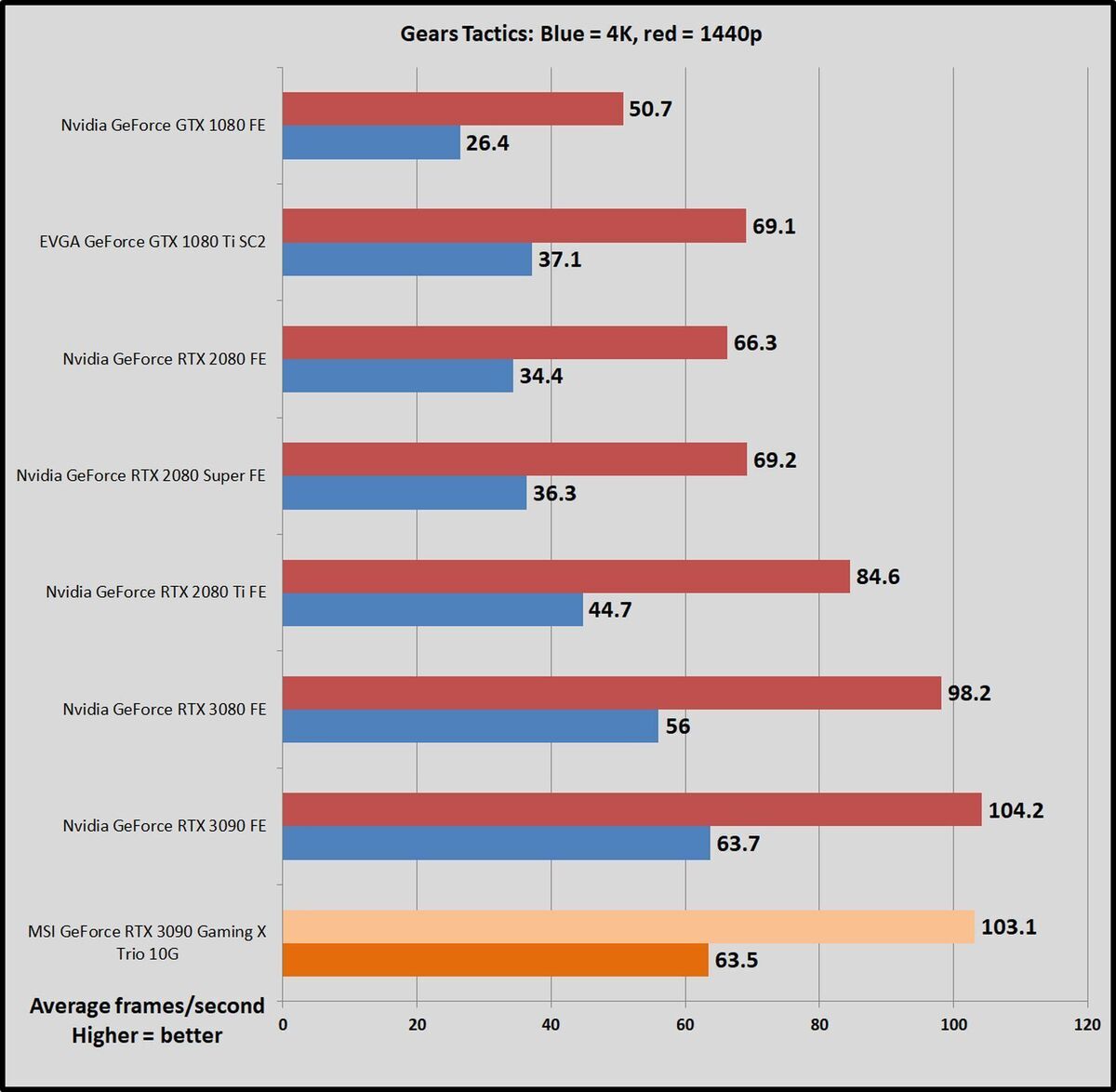 Metro Exodus
One of the best games of 2019, Metro Exodus is one of the best-looking games around, too. The latest version of the 4A Engine provides incredibly luscious, ultra-detailed visuals, with one of the most stunning real-time ray tracing implementations released yet. We test in DirectX 12 mode with ray tracing, Hairworks, and DLSS disabled for our basic benchmarks.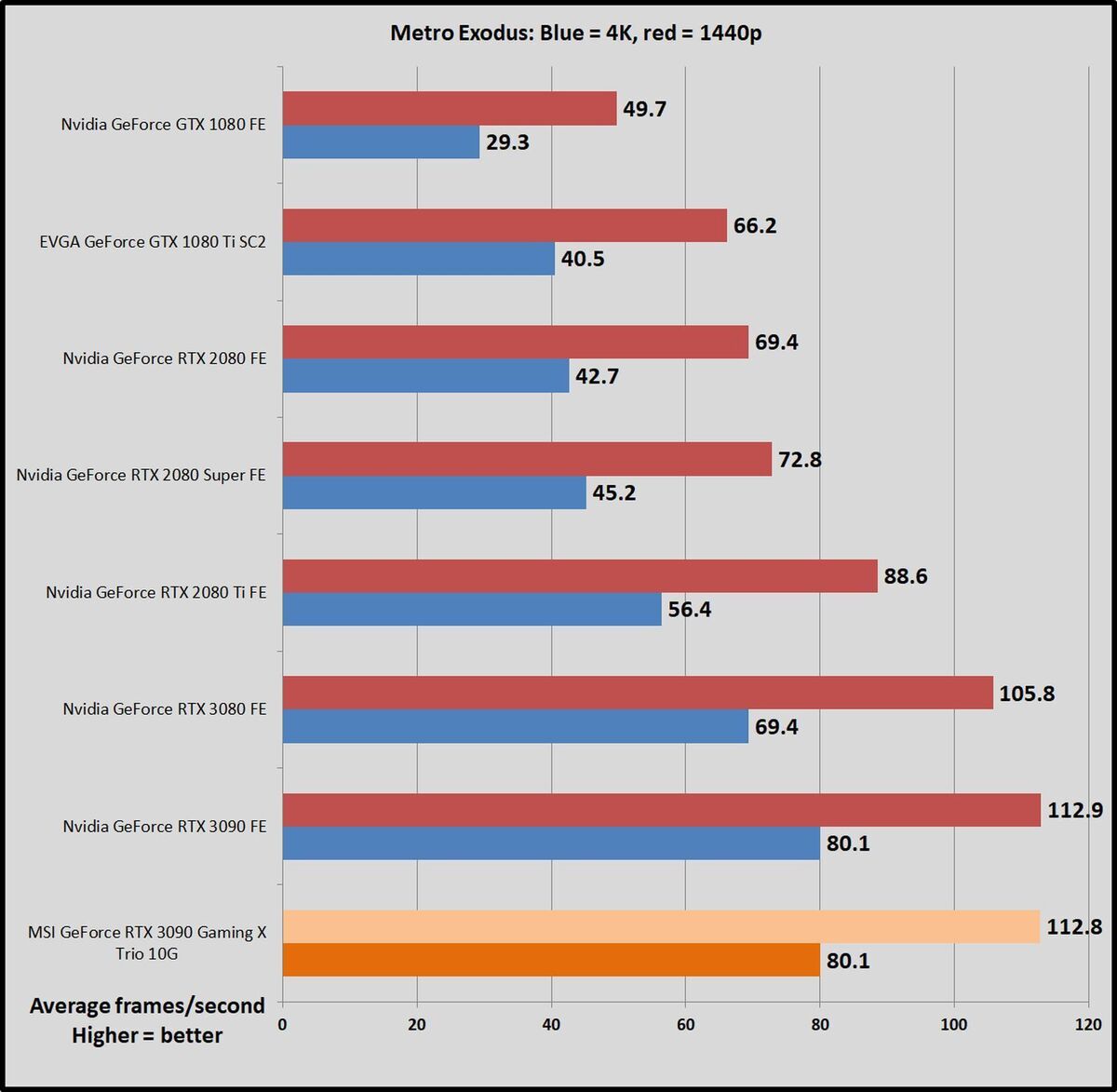 Next page: Gaming benchmarks continue
Borderlands 3
Borderlands is back! Gearbox's game defaults to DX12, so we do as well, and it gives us a glimpse at the ultra-popular Unreal Engine 4's performance in a traditional shooter.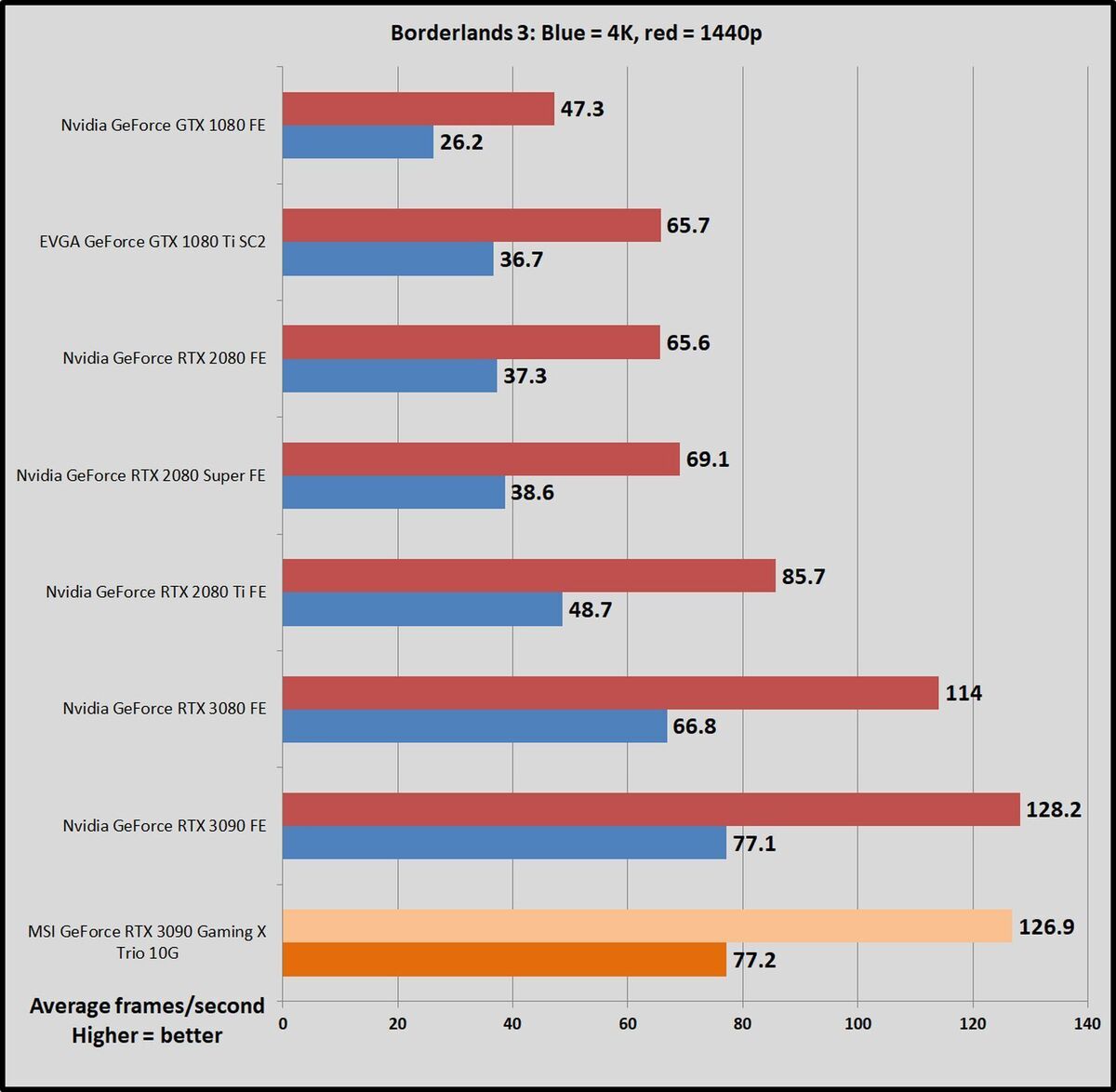 Strange Brigade
Strange Brigade is a cooperative third-person shooter where a team of adventurers blasts through hordes of mythological enemies. It's a technological showcase, built around the next-gen Vulkan and DirectX 12 technologies and infused with features like HDR support and the ability to toggle asynchronous compute on and off. It uses Rebellion's custom Azure engine. We test using the Vulkan renderer, which is faster than DX12.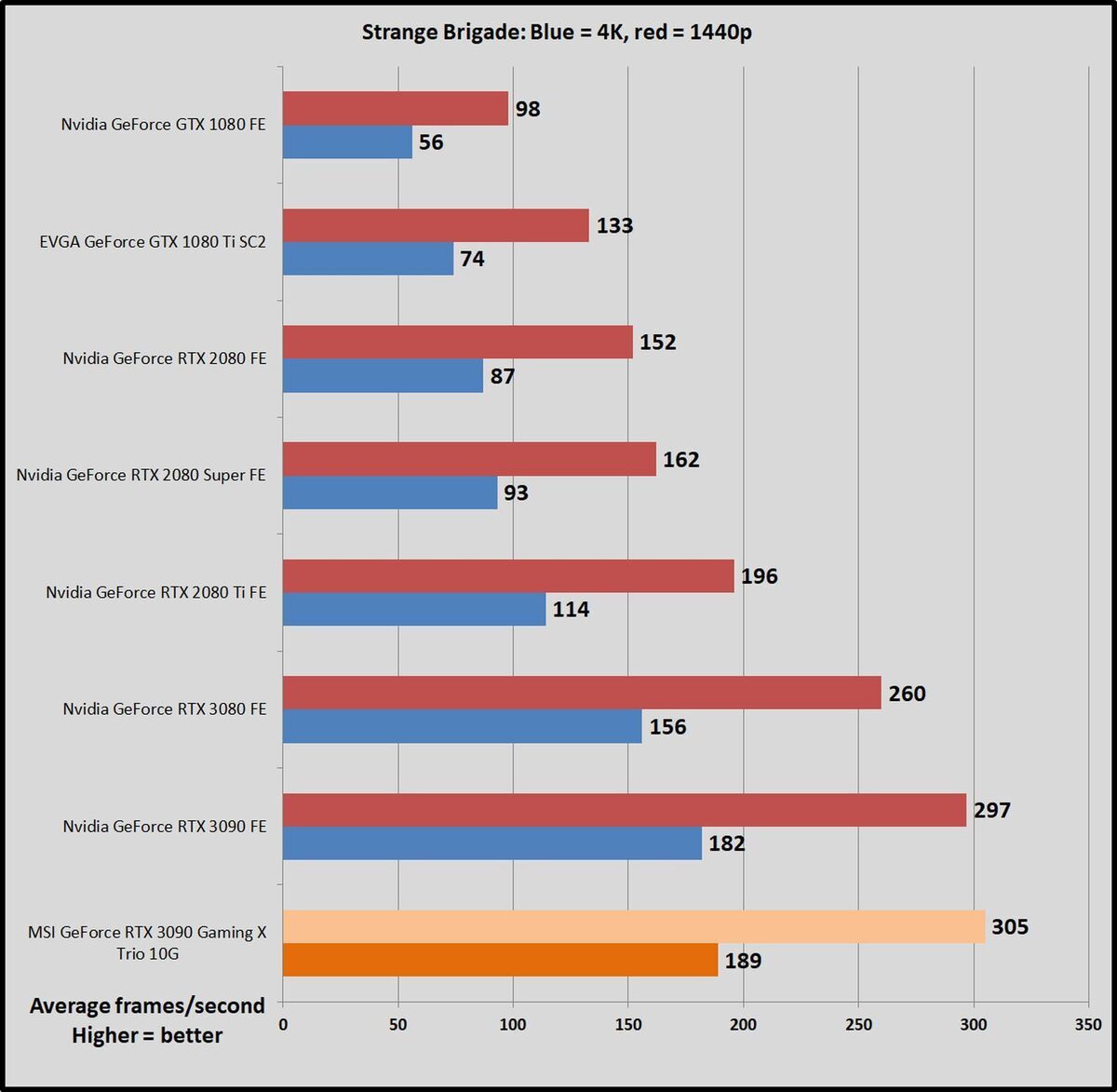 Total War: Troy
The latest game in the popular Total War saga, Troy was given away free for its first 24 hours on the Epic Games Store, moving over 7.5 million copies before it went on proper sale. Total War: Troy is built using a modified version of the Total War: Warhammer 2 engine, and this DX11 title looks stunning for a turn-based strategy game. We use the more intense battle benchmark scene.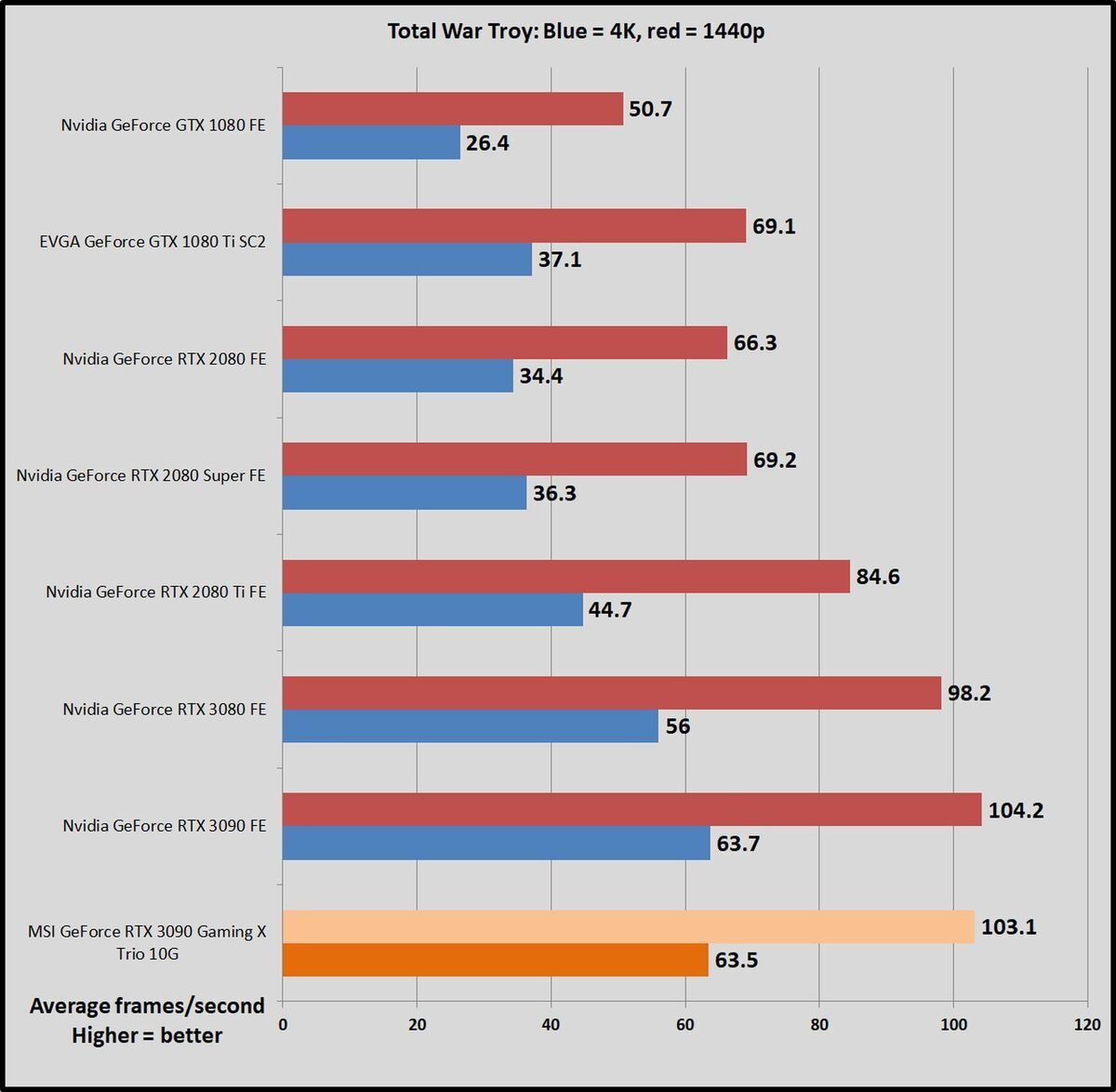 F1 2020
The latest in a long line of successful racing games, F1 2020 is a gem to test, supplying a wide array of both graphical and benchmarking options, making it a much more reliable (and fun) option that the Forza series. It's built on the latest version of Codemasters' buttery-smooth Ego game engine, complete with support for DX12 and Nvidia's DLSS technology. We test two laps on the Australia course, with clear skies on and DLSS off.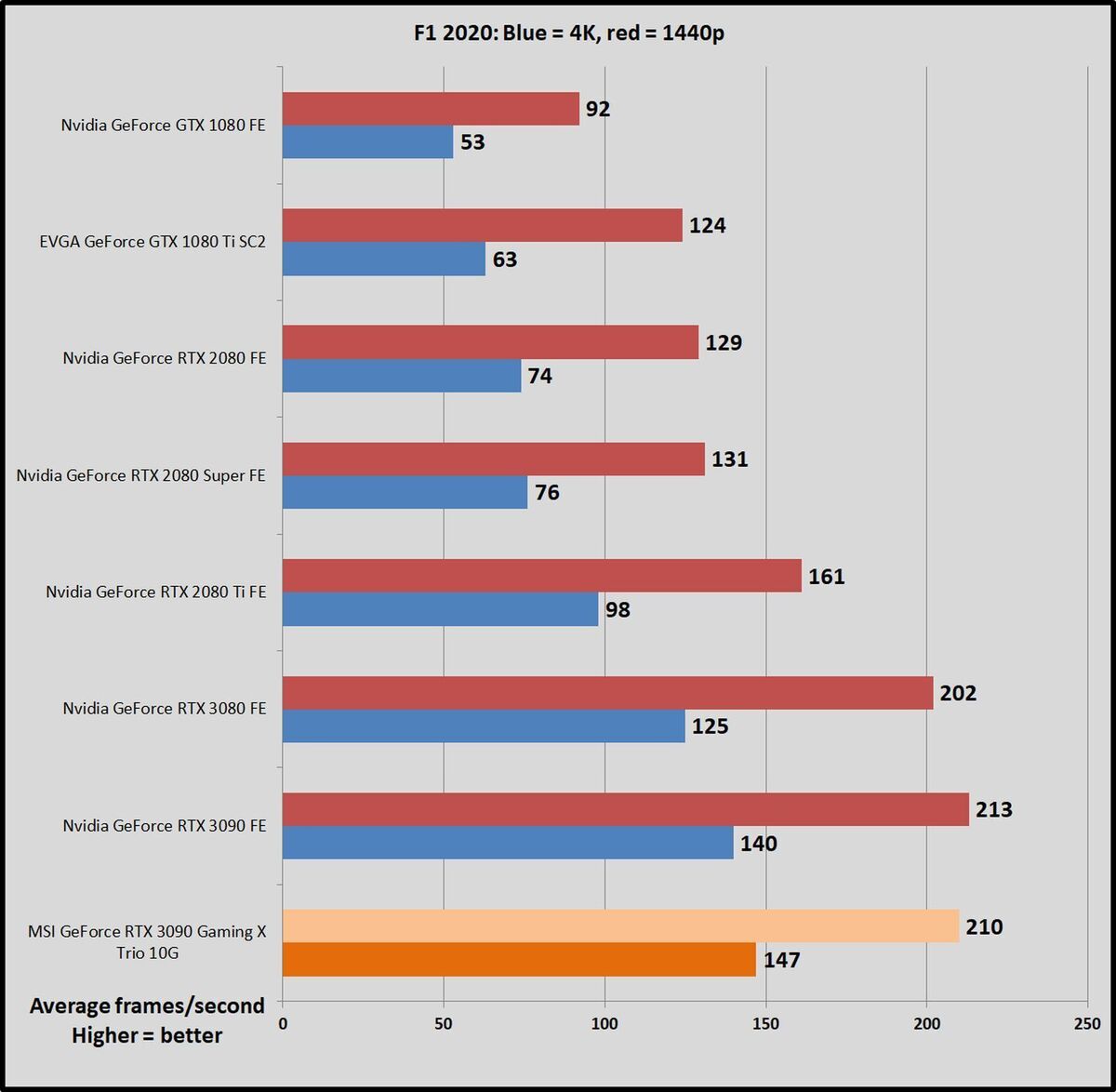 Shadow of the Tomb Raider
Shadow of the Tomb Raider concludes the reboot trilogy, and it's utterly gorgeous. Square Enix optimized this game for DX12, and recommends DX11 only if you're using older hardware or Windows 7, so we test with DX12. Shadow of the Tomb Raider uses an enhanced version of the Foundation engine that also powered Rise of the Tomb Raider and includes optional real-time ray tracing and DLSS features.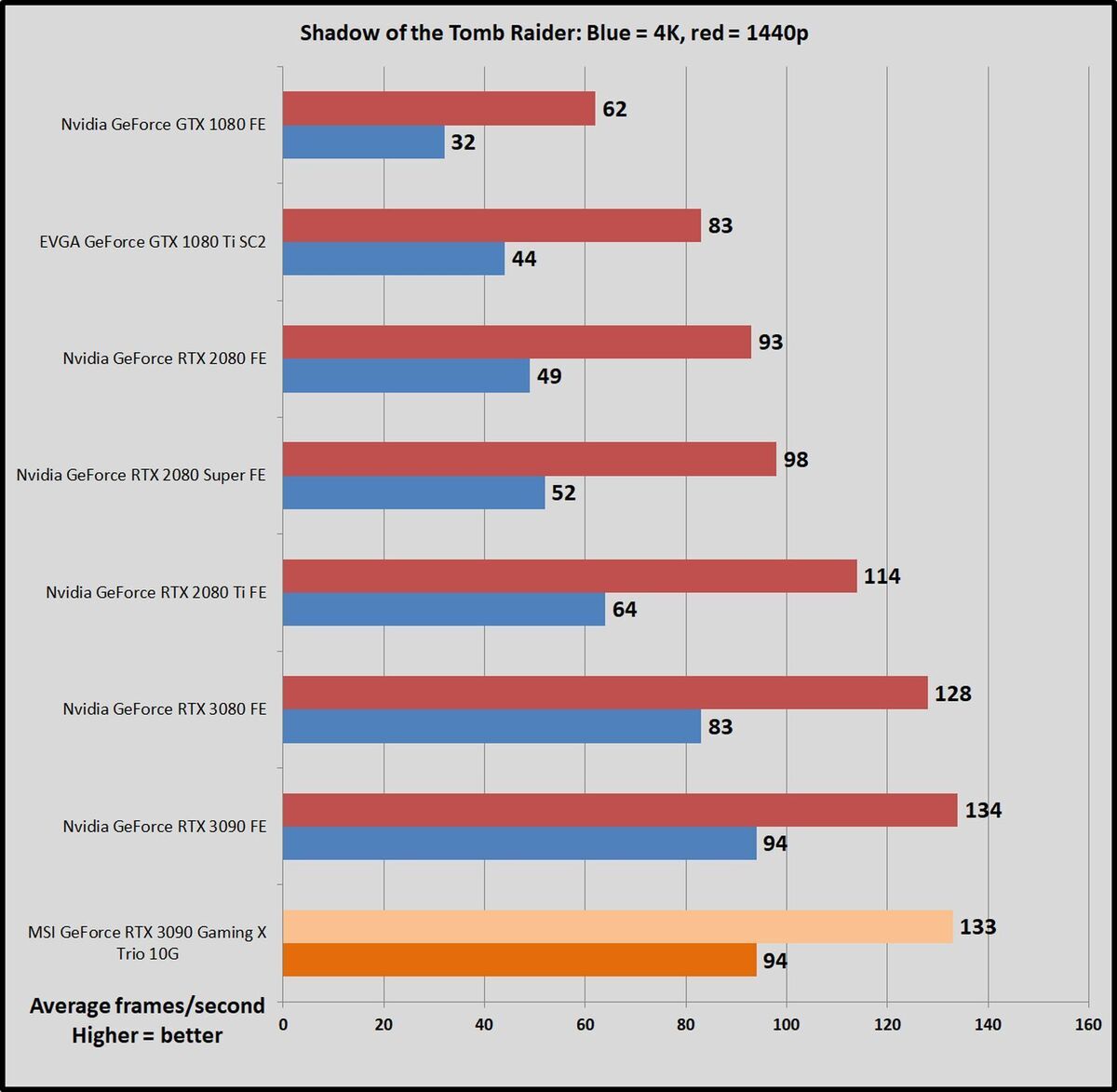 Next page: Gaming benchmarks continue, power and thermals
GTA V
This DX11 game that isn't really a visual barn-burner like the (somewhat wonky) Red Dead Redemption 2, but still tops the Steam charts day in and day out, so we deem it more worthy of testing. RDR2 will melt your graphics card, sure, but GTA V remains so popular years after launch that upgraded versions of it will be available on the next-generation consoles. That's staying power.
We test Grand Theft Auto V with all options turned to Very High, all Advanced Graphics options except extended shadows enabled, and FXAA. GTA V runs on the RAGE engine and has received substantial updates since its initial launch.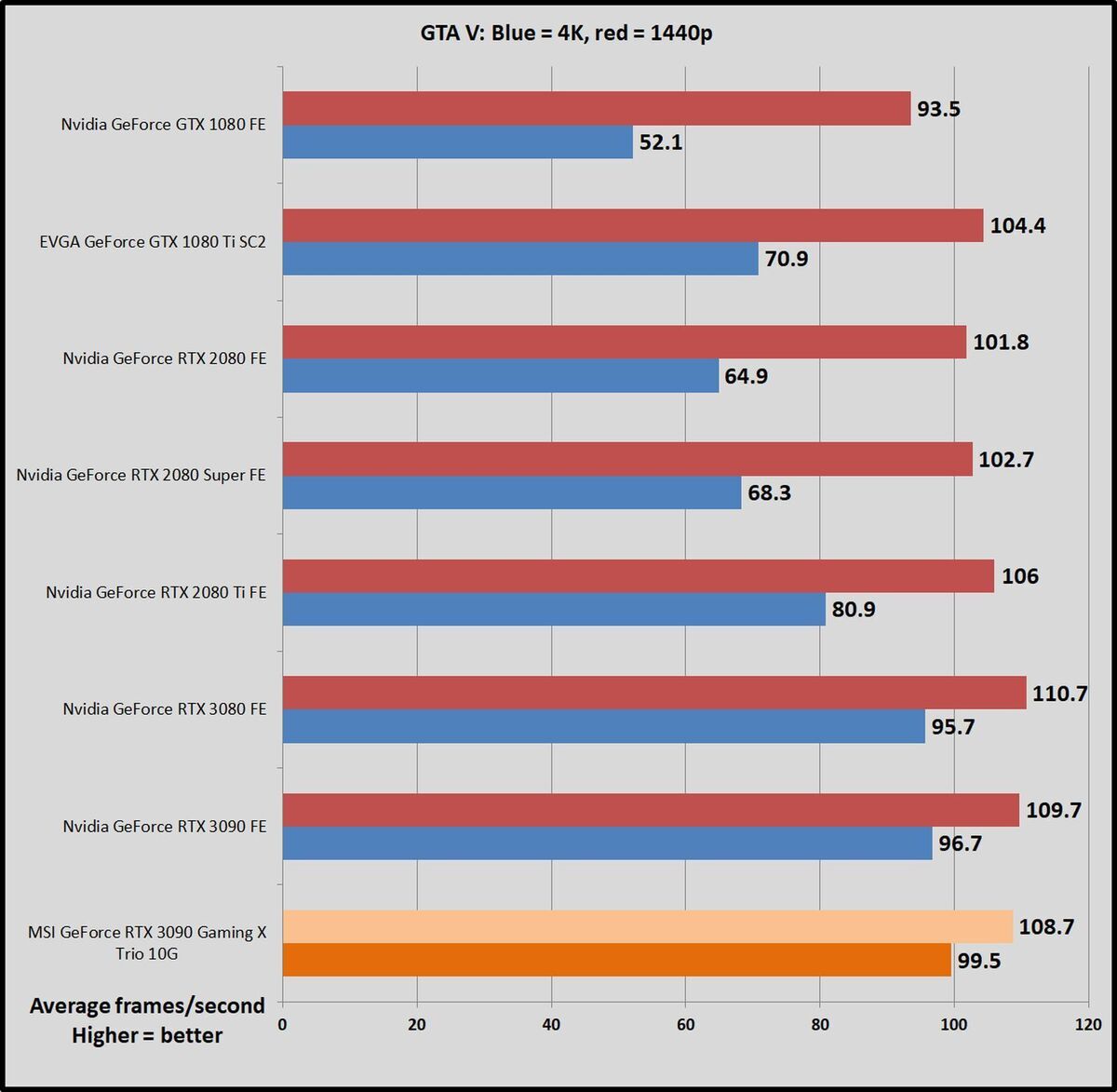 Rainbow Six Siege
Like GTA V, Ubisoft's Rainbow Six Siege still dominates the Steam charts years after its launch, and it'll be getting a visual upgrade for the next-gen consoles. The developers have poured a ton of work into the game's AnvilNext engine over the years, eventually rolling out a Vulkan version of the game that we use to test. By default, the game lowers the render scaling to increase frame rates, but we set it to 100 percent to benchmark native rendering performance on graphics cards. Even still, frame rates soar.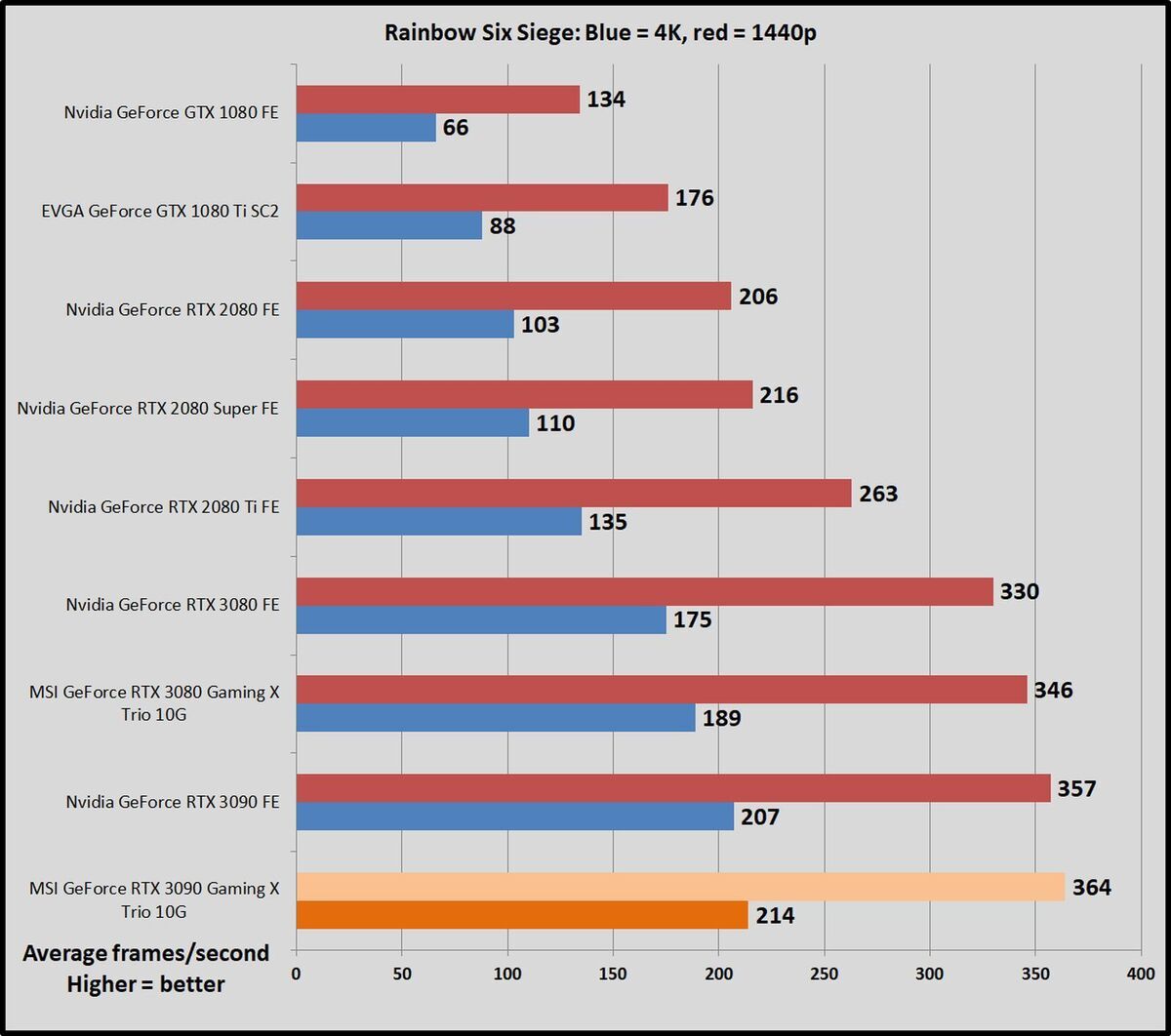 Power draw, thermals, and noise
We test power draw by looping the F1 2020 benchmark at 4K for about 20 minutes after we've benchmarked everything else and noting the highest reading on our Watts Up Pro meter, which measures the power consumption of our entire test system. The initial part of the race, where all competing cars are onscreen simultaneously, tends to be the most demanding portion. We're adding the MSI Gaming X Trio version of the RTX 3080 to the mix for these tests, so you can see the difference between the MSI and Nvidia coolers in their RTX 3080 and 3090 iterations.
This isn't a worst-case test; we removed the Core i7 8700K's overclock and specifically chose a GPU-bound game running at a GPU-bound resolution to gauge performance when the graphics card is sweating hard. If you're playing a game that also hammers the CPU, you could see higher overall system power draws. We saw Borderlands 3 draw well over 600W on our system with the Gaming X Trio installed. Consider yourself warned, and maybe consider upgrading your power supply.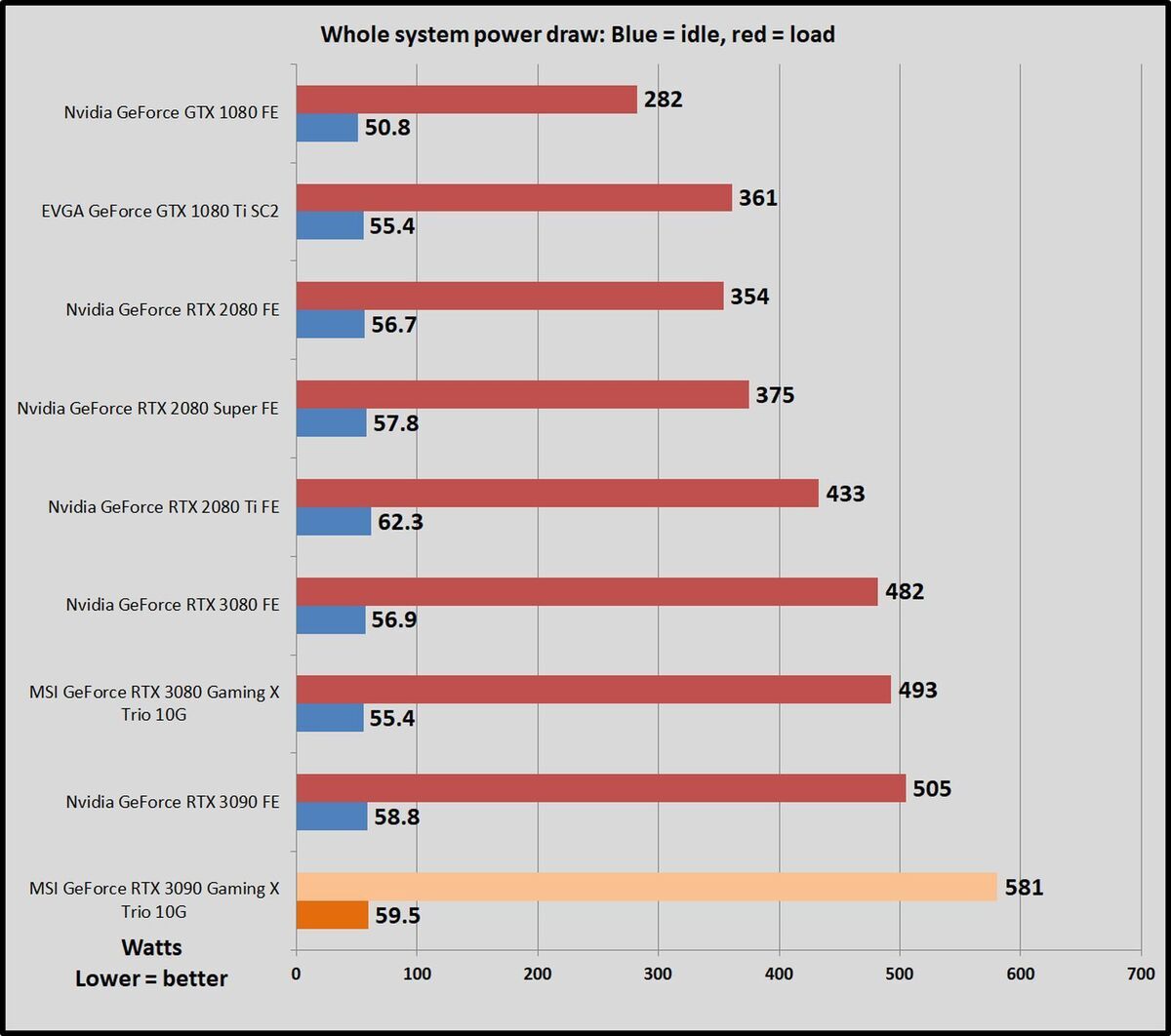 Hot damn. The Nvidia RTX 3090 Founders Edition was the first GPU to ever top 500W of total system draw in our tests, but between the extra fans, RGB lights, and 85MHz overclock, MSI's Gaming X Trio sucks down considerably more juice. It comes closer to 600W than 500W. Oof. It doubly hurts because MSI's card isn't noticeably faster in real-world games even with the overclock.
We test thermals by leaving GPU-Z open during the F1 2020 power draw test, noting the highest maximum temperature at the end.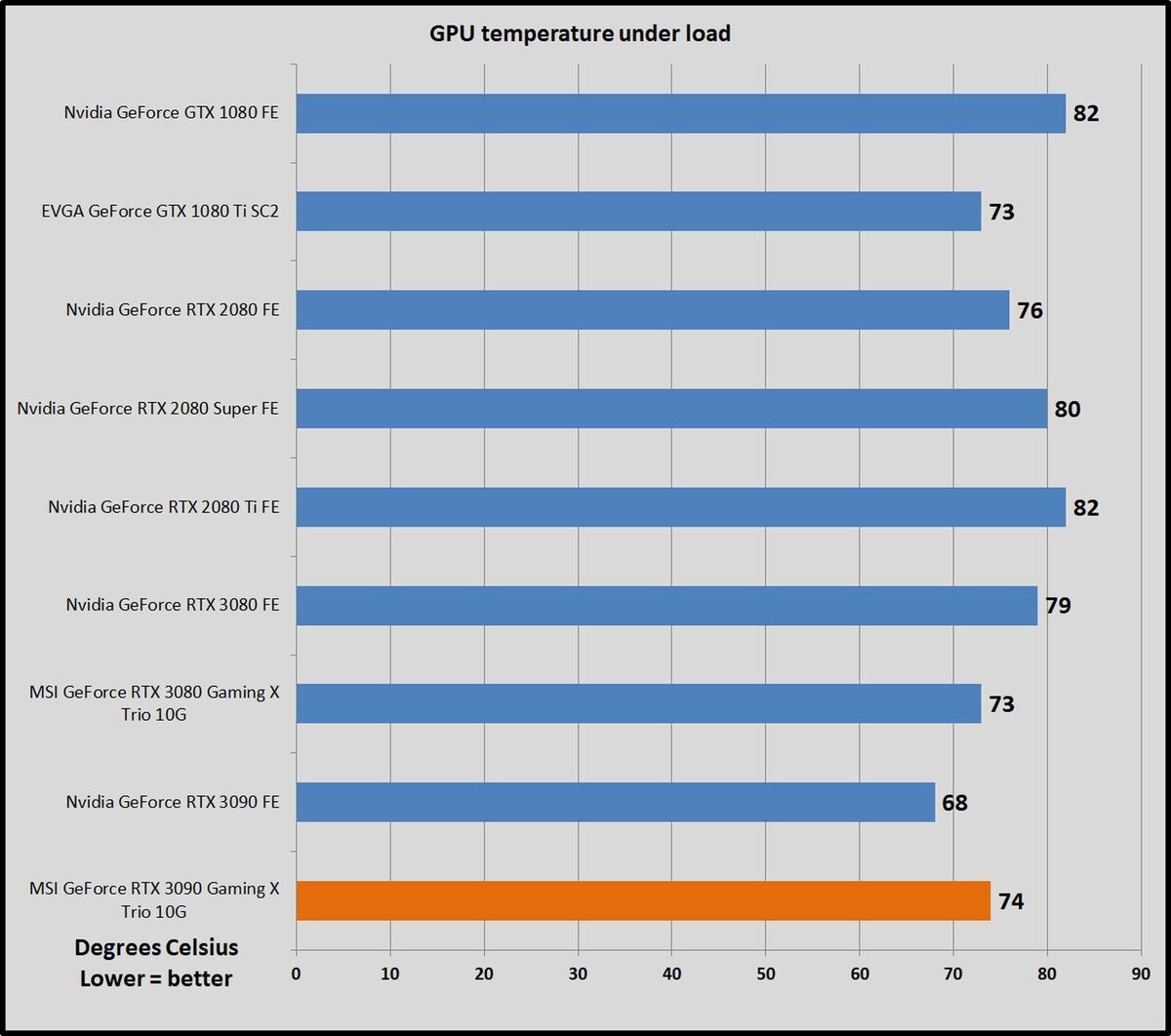 While the Gaming X Trio's beefy triple slot Twin Frozr 2 cooler gave it the edge in its RTX 3080 incarnation, the tables get turned with the RTX 3090. Nvidia bulked the RTX 3090 Founders Edition up to three slots and it's incredible: cool on par with the best custom designs we've seen, and utterly silent under even the most strenuous loads.
That said, MSI's card still very much impresses. It keeps the ferocious RTX 3090 GPU at a very cool 73 degrees itself, and while it's not silent, it's incredibly quiet. The Gaming X Trio's thermals and acoustics will probably hold up well against rival custom RTX 3090s, but the Nvidia Founders Edition is more efficient.
Next page: Should you buy the MSI GeForce RTX 3090 Gaming X Trio?
Should you buy the MSI GeForce RTX 3090 Gaming X Trio?
This is a more difficult question to unpack than with most graphics cards. Let's break it down into two parts: First, whether you should even buy a GeForce RTX 3090, and second, whether the MSI Gaming X Trio is worth consideration.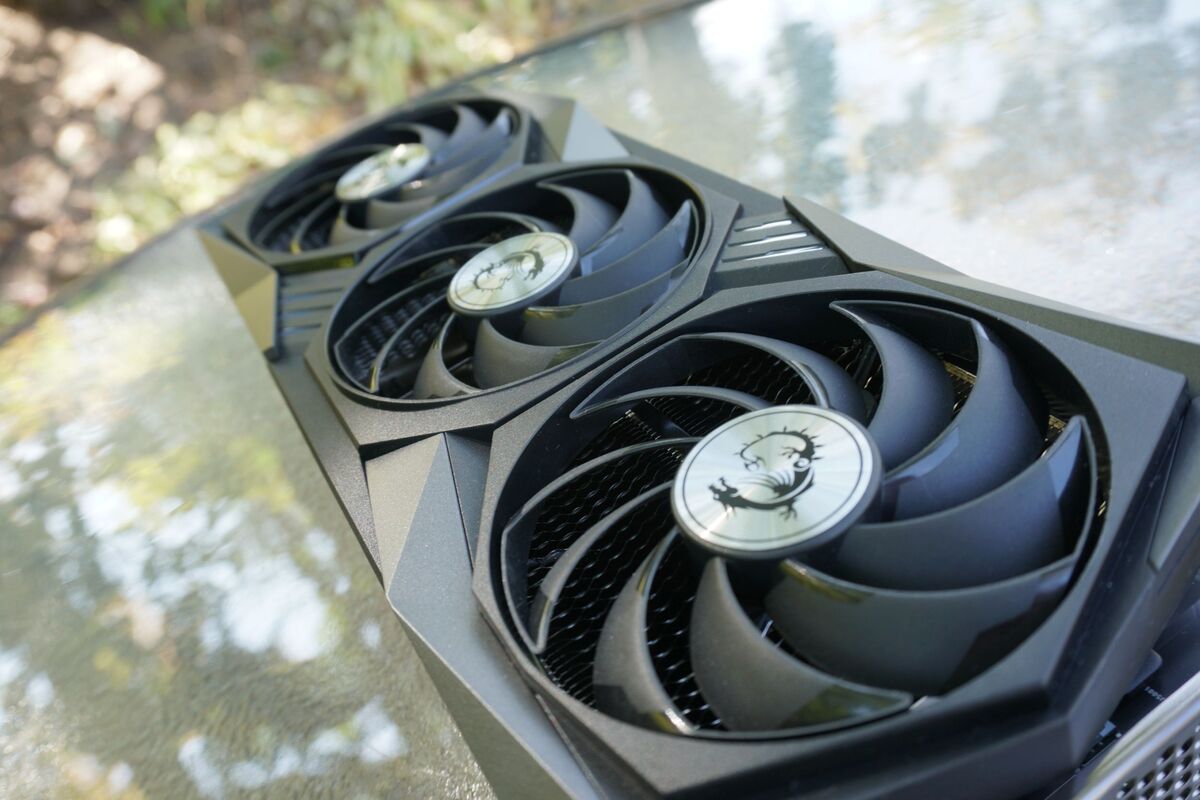 Most pure gamers shouldn't buy any GeForce RTX 3090, full stop. Yes, it's the fastest gaming card in the world, but it's only 10 to 15 percent faster than the $700 GeForce RTX 3080, which costs under half as much. The GeForce RTX 3080 delivers staggering gaming performance at 4K and high-refresh rate 1440p resolutions, and it rocks for 3440×1440 ultrawide, too. It's so powerful you can even play ray traced games with DLSS on at those lofty resolutions—something you couldn't say with high-end RTX 20-series cards. MSI's own $760 RTX 3080 Gaming X Trio is a wonderful choice. The RTX 3080 can't game at 8K like the RTX 3090, but even the 3090 struggles with many games at that resolution. It's more of a mixed-bag gimmick than a viable option in most titles.
If you're only interested in gaming, you should only opt for an RTX 3090 if you have deep pockets and don't mind paying up for the absolute best possible gaming performance, value be damned. You exist, and the RTX 3090 will indeed rock your socks.
The GeForce RTX 3090 is a stunning value for prosumers who want to put it to work and play on the side, on the other hand. The improvements in Nvidia's Ampere architecture makes the RTX 3090 significantly faster than previous-gen gaming flagships and AMD's rival Radeon VII in content creation and GPU compute tasks, and its massive 24GB of GDDR6X memory lets this card perform tasks that consumer graphics cards with less VRAM simply can't, like editing 8K video. The RTX 3090 also supports NVLink, unless the rest of the RTX 30-series lineup.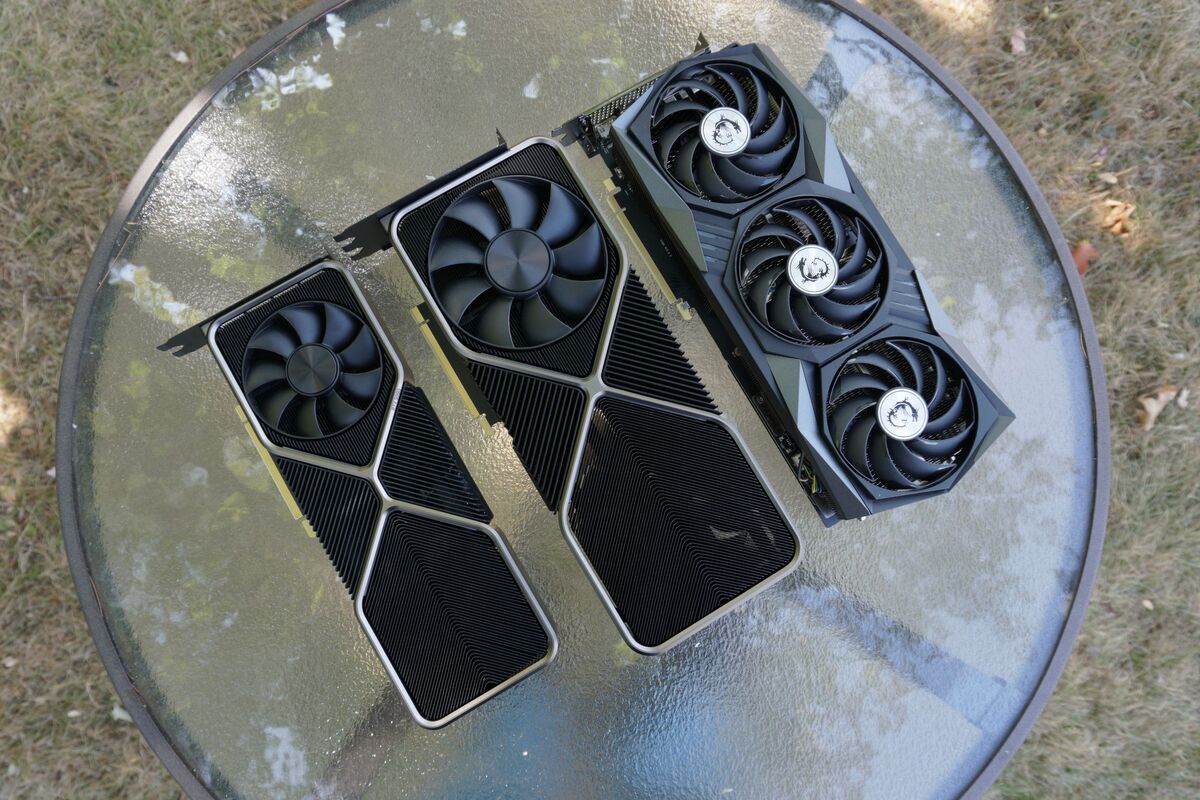 Look: If you need the GeForce RTX 3090, you probably already know it. If you're on the fence, check out exhaustive review of Nvidia's GeForce RTX 3090 Founders Edition, where we dig deep into its content creation and 8K gaming chops as well as our standard benchmarks. And if you do need it for work, you'll probably consider the GeForce RTX 3090 a sterling value, as it costs a whopping $1,000 less than the (slower) RTX Titan did.
Okay. So you want an RTX 3090. Should you get the MSI Gaming X Trio?
We'd recommend opting for Nvidia's GeForce RTX 3090 Founders Edition if you can snag one, actually. It delivers the same essential level of performance but uses significantly less power while running cooler and staying utterly silent. The mild factory overclock that MSI applies to the Gaming X Trio definitely makes it sweat harder—especially in power draw. The fact that Nvidia's FE costs $90 less is the cherry on top.
You won't be disappointed if you snag MSI's customized graphics card, though. It's hellaciously fast, and while it's not as cool or as quiet as Nvidia's Founders Edition, it's still very cool and very quiet. This is a great cooling design; Nvidia's is just phenomenal. And if you want RGB lighting (or don't want to fuss with an ugly 12-pin power adapter), then you'll prefer MSI's card.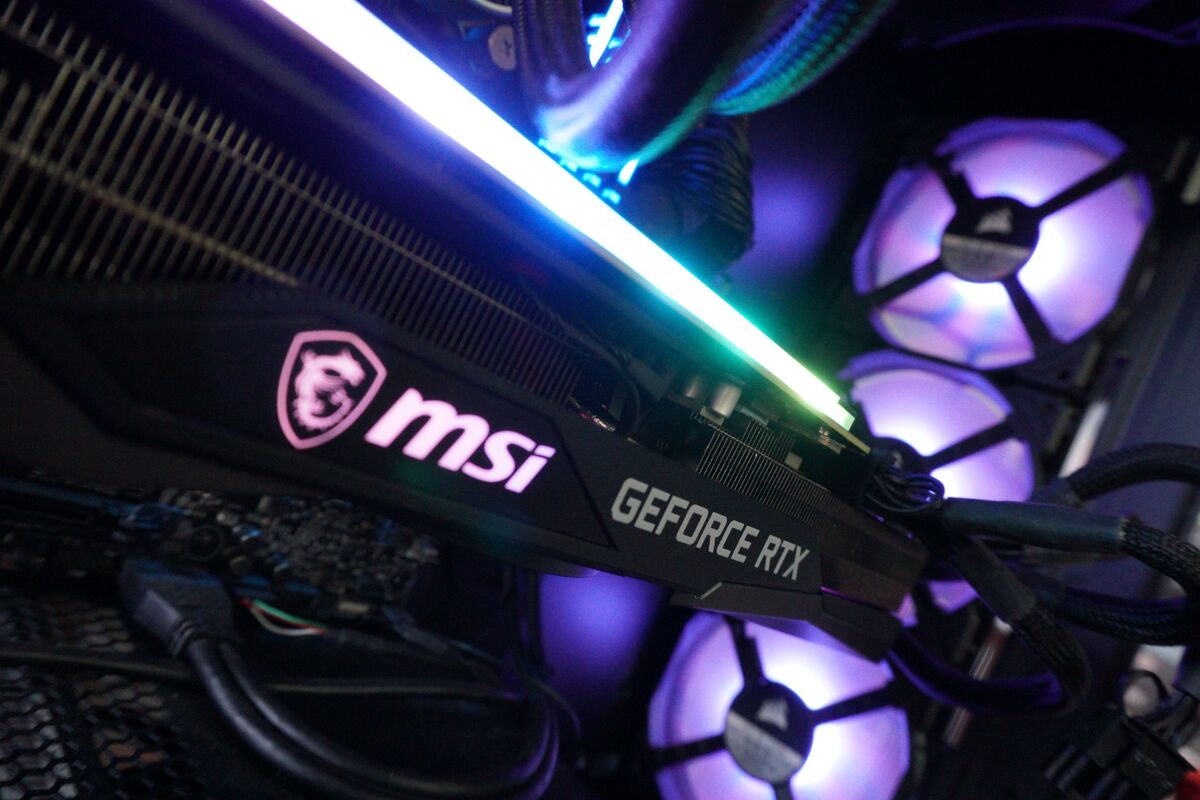 At $1,589, the MSI Gaming X Trio won't be as exorbitantly priced as some many other custom RTX 3090 models. Then again, MSI's custom offering lacks some niceties you'll find on other models. You won't find luxurious extras like a dual-BIOS switch or fan control headers that tie into GPU speed, and while MSI's heavy use of plastic could be overlooked with the RTX 3080 version of the Gaming X Trio, it's worth pointing out here. If you're spending a solid four figures on a graphics card, details count.
Bottom line? The MSI RTX 3090 Gaming X Trio is a great version of a highly specialized GPU. Get Nvidia's cheaper, slightly better Founders Edition if you can, but don't hesitate to snap up the Gaming X Trio if Nvidia's model sells out. Just make sure your workload—and your power supply—can handle it.